Human trafficking is a persistent problem in most countries across the world. Often through deception, people are recruited, harbored, and transported to be sold or exploited. The victims are treated like disposable human beings. asserting ownership over them.
And they are 'tagged' as commodities, just like bar codes, but hidden in plain sight. In the UAE, regular crackdowns, police alertness, and international cooperation have pushed the numbers down in recent years.
The rising problem of Human Trafficking in UAE
In one of the many remarkable success stories of UAE law enforcement in its fight against trafficking, a call treated with utmost urgency saved the life of a young woman and brought the criminals to justice. This panicky mobile call came from the mother of the woman from a Southeast Asian country. It led UAE law enforcement to start looking into her disappearance after her arrival in Dubai.
Shortly after she arrived, she fell into the trap of a gang running a prostitution racket. was beaten and locked up for her refusal to enter the trade. She somehow called her mother, who then called Dubai Police. The police force contacted the diplomatic mission. Meanwhile, realizing that the victim's mother might alert the police, the gang took the young woman out of confinement and dumped her at the airport. The exhausted victim was finally rescued by the authorities and placed in a shelter run by the Dubai Foundation for Women and Children. The gang was tracked down and were arrested.
According to the data from the UAE National Committee to Combat Human Trafficking, government efforts — field investigations and awareness campaigns — have resulted in a drop in the number of human trafficking offences, victims, and criminals. Cases went down from 58 in 2010 to 30 in 2018; from 512 victims in 2010 to 51 in 2018; and the number of criminals arrested from 169 in 2010 to 77 in 2018.
During two Ramadan seasons, 2018 and 2019, Sharjah Police rescued 35 people, including 14 people of determination. The victims had been smuggled into the UAE for begging during the holy month.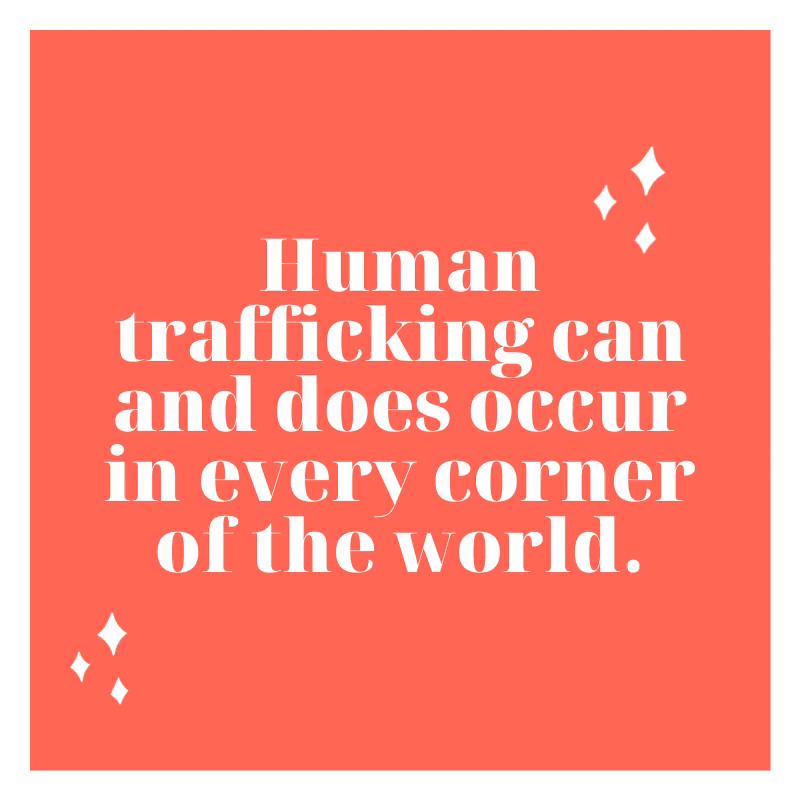 "A number of gangs were involved in human trafficking by targeting the most vulnerable victims—women and young people. They have all been referred to the public prosecution to pay the consequences of their inhumane acts against innocent people: said Colonel Ibrahim Al Ajill, Director of the Criminal Investigation Department at Sharjah Police.
Police officials from the Northern Emirates such as Ajman and Fujairah constantly urge the public to report any instances of suspected human trafficking. Every responsible citizen and resident acting as the eyes and ears of the police is one of the key aspects of the anti-trafficking strategy.

Mechanisms to address Human Trafficking in UAE
THE MINISTRY OF INTERIOR USES SEVERAL MECHANISMS TO ADDRESS ALL FORMS OF HUMAN TRAFFICKING IN UAE. THEY INCLUDE:
Raising awareness and promoting a culture of combating human trafficking
Cooperation with Interpol through the exchange of information on human trafficking crimes
Monitoring of those involved or suspected of involvement in such crimes
Imposition of stricter controls at air, land, and seaports
Use of unified criminal justice systems and Interpol resources to verify the identity of individuals at air, land and sea access points
GOVERNMENT INSTITUTIONS TO COMBAT HUMAN TRAFFICKING IN UAE
One of the pillars for combating human trafficking is the protection of victims, according to National Committee to Combat Human Trafficking strategic plan. The UAE established a number of shelters and support system, specifically designed to provide the necessary assistance to victims urgently and fairly without discrimination against any race or gender.

HUMAN RIGHTS DEPARTMENT AT THE MINISTRY OF INTERIOR
This Mol department and its counterparts at all the police general commands work to provide psychological, social, and legal support to women and children who are victims of human trafficking. Support includes temporary shelter, temporary visas, and tickets to go home.
EWA'A SHELTERS
The first Ewaa shelter was opened in Abu Dhabi in 2008 to receive women and children victims of human trafficking. The second shelter, receiving male victims, was opened in 2013. More shelters are expected to open in other emirates to expand the work of this initiative all over the UAE.

Hotline: 800 SAVE (800 7283)
HUMAN TRAFFICKING CRIME CONTROL CENTRE AT DUBAI POLICE
It is concerned with monitoring, studying and combating this type of crime. Its goals include ensuring the support and care for victims and promoting a culture of awareness about this menace at the local, regional and international levels.

Hotline: 800 5005
DUBAI FOUNDATION FOR WOMEN AND CHILDREN (DFWAC)
Established in 2007, it is the first licensed non-profit shelter for women and children who are victims of domestic violence, abuse and human trafficking in the UAE. It offers victims immediate protection and support services in accordance with international human rights obligations.
Hotline: 800 111

WOMEN'S PROTECTION CENTRE IN SHARJAH
It offers refuge, rehabilitation, as well as psychological, social and legal support services for female victims of violence. The aim is to enable them to return to their normal lives and integrate them into society in order to achieve family and community stability.

Hotline: 800 800 700

AMAN CENTRE FOR WOMEN AND CHILDREN IN RAS AL KHAIMAH
The centre offers respite and training to victims of abuse, violence, and human trafficking. The centre aims to integrate victims back into society after rehabilitation and receiving legal aid. It also helps to send back victims to their home countries to start over.
Hotline: +9717 235 6666 (via RAK Police)
How to protect yourself from Human Trafficking in the UAE?
DON'T FALL PREY TO A HUMAN TRAFFICKER. HERE ARE SEVEN GOLDEN TIPS TO PROTECT YOURSELF FROM HUMAN TRAFFICKING IN THE UAE.
If a very attractive job opportunity is offered in the UAE, make sure you ask all the questions related to this offer and make sure the answers are valid.
Ensure that the company offering the work has an actual presence in the UAE.
Read the work contract carefully before signing it. Know your rights and duties well before accepting any job offer in the UAE.
Be careful about online job offers, as scammers abound.
Communicate with the UAE embassy in your country before travelling.
Make sure you leave your address and contact numbers with your family and friends before you travel.
Keep your travel papers and ID card in a safe place at your UAE residence.
Legal Provisions for Human Trafficking in the UAE
The UAE strives to drag down human trafficking in all its forms through key pillars, including legal frameworks, prevention, prosecution, punishment, victim protection, and strengthening international cooperation. Further,the UAE bolstered its efforts by issuing Federal Law No. 51 for 2006, amended by Federal Law No. 1 of 2015, on the fight against human trafficking. This federal law could be applied to all crimes of human trafficking, including all forms of sexual exploitation, forcing people into prostitution, servitude, forced labour, and begging as well as human organ trafficking. For a person convicted of human trafficking, the federal law stipulates imprisonment for a minimum of five years, and a fine of at least Dhs 100,000.
Life imprisonment is stipulated if the victim is a child or a disabled person; if the act is committed by threatening to kill, grievous bodily harm, physical or psychological torture; if the perpetrator carries a weapon; and if the perpetrator established or ran an organised criminal group.
In accordance with UAE Cabinet Decree No. 15 (2007), the establishment of the National Committee to Combat Human Trafficking gave teeth to Federal Law No. 51 and paved the way for the creation of key frameworks to better implement coordination between ministries and government departments.